Saturday 26 August I had the honor of performing at a classic pub /music bar in Karlstadt Bavaria. The location, Lisle Karlstadt. A small pub with a big heart for live music of all kinds. Originally billed as an inside performance, the weather was just so fantastic club owner Rainer decided to set up the stage outside in the beer garten. Great decision Reiner! The guests were feeling the beautiful weather and they were feeling the Robert Cotton Blues!
What a great audience. Every one was moving to the music and felt the Blues in their soul. All seats in the beer garten were occupied. By 9 PM there was standing room only. ……….I was feeling good….. Later in the evening I had a surprise visit from my friend "The Harmonica Doctor" Sabo from the Würtzburg band "Mucho Mojo". The Doctor played a few songs with me and was kindly appreciated by the audience. By the way, I have the pleasure of being the vocalist with Mucho Mojo, and they even let me pick on my guitar for a few songs during our performance. Great Music and a great bunch of guys.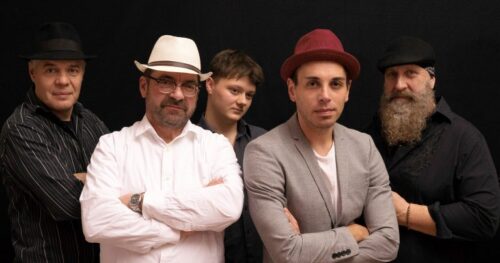 A must see band if you are in the Würtzburg area. Take a look at the tour schedule on my web site. Mucho Mojo has a few gigs coming up in the next few months. We would love to see you in the audience. Come up and say hello! We love meeting all you groovy Blues lovers. It was indeed a night filled with Grov'n, jump'n blues!
Later in the evening my friend Marcus Stein came up to say hello. Markus performs in the Würtzburg area with a few acts that he is involved with.
His main focus is with his duo "No hit wonders" with his partner in crime Rudi Interwies. Two excellent musicians that put on a hell of a show. Marcus happened to have one of his guitars in the trunk of his car so you bet I invited him up for a few songs. Marcus is a staple in the Music scene in the area, knows all the local guitar heroes and has played with most. I now can brag that Marcus Stein has performed with me on stage. …..got to collect all the bragging rights you can in this buisness….. thanks Harmonica Doctor and thanks Marcus!